---
EASTERN MICHIGAN
2402 GRATIOT AVE.
PORT HURON, MI 48060

Toll Free: 800.445.3021
Local: 810.984.3200
Fax: 810.987.8470
email: mic@mic-mic.net

Who keeps Your UPS up?
Our technicians have been servicing uninterruptible power supply systems since 1986. We have experience with most systems and are the authorized service center in

Michigan for HDR Power Systems and OnLine Power.
No matter how large or small your UPS is, we can help. With over thirty years of cumulative experience, we are proficient with everything from minor repair to complete new system design and turnkey start ups.
Are you having trouble with a small, shippable sized UPS? Send it to us for a no cost / no obligation evaluation. We'll call you back with a firm flat rate repair price. Your UPS will be returned to you repaired, tested, and guaranteed.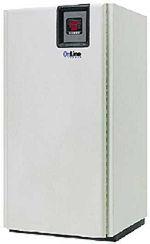 Or, if you have a problem with a large network sized system, call us for prompt in-plant service. MIC technicians are available 24 hours a day / 365 days a year for service calls. We respond promptly and we know how to diagnose and resolve your UPS problems and put you back on line quickly.
Better yet, join one of our maintenance programs and let us prevent the problems before they occur. Call us, we'll custom design a PM program around your needs, schedule and budget.
Whether you require batteries, components, service or a new or used system, Michigan Industrial Controls can help with all of your UPS needs.